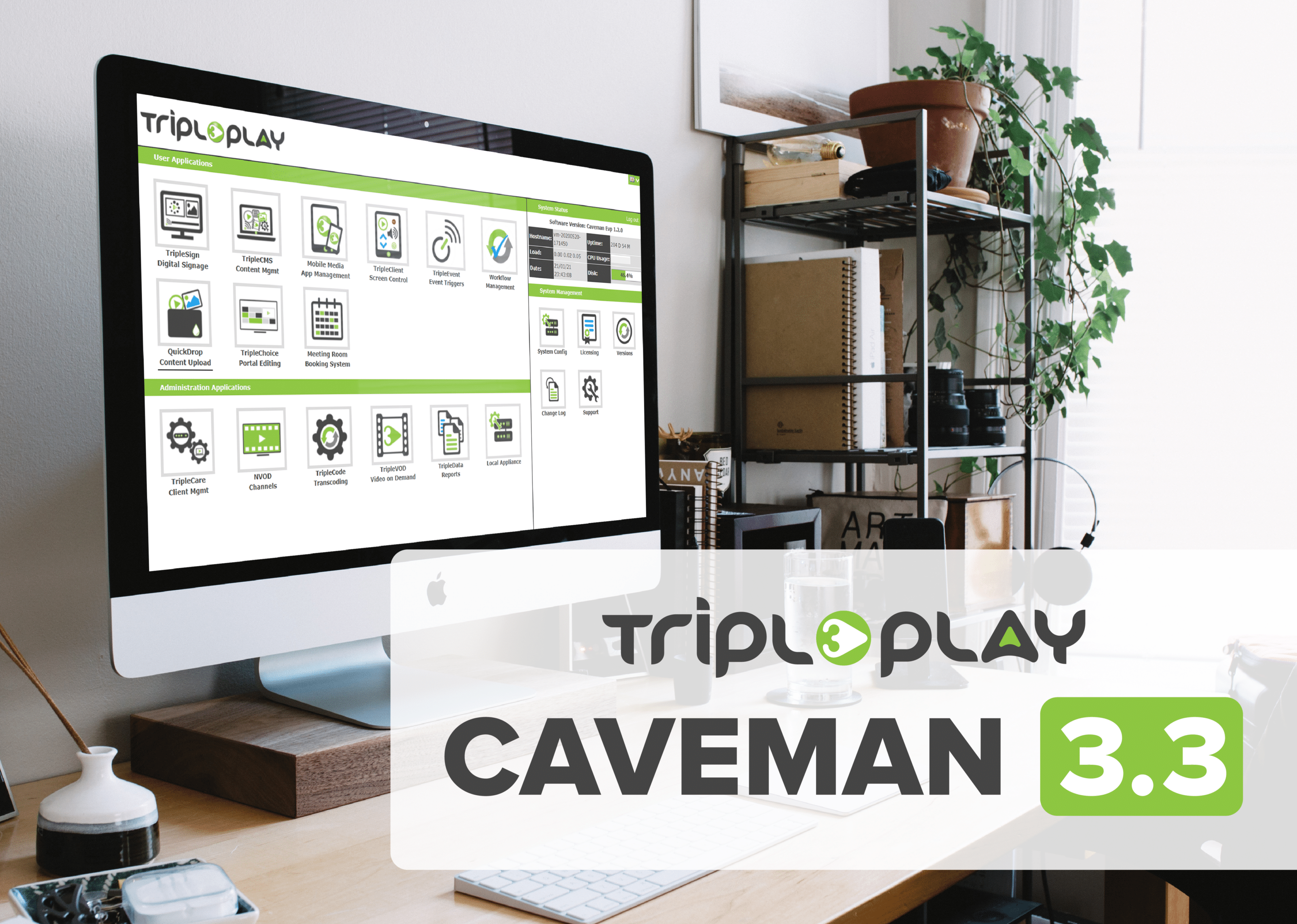 Caveman 3.3, the latest software release on Uniguest's Tripleplay Digital Signage and IPTV platform, adds significant enhancements, including Power BI integration, a new API for endpoint monitoring and event trigger support for Site Profiles. 
London, UK, 8th November 2022. Uniguest today announces the release of Caveman 3.3, the latest version of its Tripleplay digital signage, enterprise video and IPTV software delivering several significant new features and integrations.  
Existing and new users can take advantage of the latest release to enhance their experience, which includes: 
Power BI

data visualization software integration for organizations to report powerful business intelligence via dashboards, reports, and tiles, directly in Tripleplay Digital Signage 

 
A new API for third-party monitoring systems to fetch real-time information on the status of Tripleplay signage hardware, opening the ability to utilize third-party systems for endpoint monitoring

 

Updated digital signage event triggers which can now be utilized whilst working with Site Profiles 

 

New Webcasting enhancements enabling viewers to access live webcasts from mobile devices via the Tripleplay Mobile Media App (MMA)

 
Additional features include UI and platform architecture enhancements to Reserva, Uniguest's enterprise-class room booking system available via Tripleplay. Digital signage users can also take advantage of the new BrightSign browser plugin and additionally support for the latest Samsung SSP10 will be available.  
Tripleplay CEO Steve Rickless commented, "This release continues our long-term commitment to our strategic roadmap to deliver new and significant features across our platforms. We're constantly evolving our solutions in line with customer need, providing important and exciting integrations with platforms such as Power BI and which we are confident our users will find invaluable." 
For further information on Tripleplay's Caveman 3.3 software release, contact your local Tripleplay representative, visit www.tripleplay.tv or email to hello@tripleplay.tv. 
Demos of the latest Tripleplay innovations will also be available on the Uniguest stand #at ISE 2023. For information and to register, click here:https://ise.barcelona/